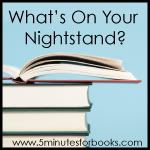 The folks at 5 Minutes For Books host What's On Your Nightstand? the fourth Tuesday of each month. The purpose is to share about the books we have been reading and/or plan to read.
So on my nightstand this month (not literally because I don't usually read in bed :), but you get the idea):

I just finished PS, I Love You by Cecelia Ahern. It was recommended to me by my friend and fellow blogger, Laura.

I'm truly not much of a romance novel type person. I love Janet Evanovich, who is laugh out loud funny. But I really enjoyed this book. It was sweet and funny and sad and it made me cry (several times), but I would highly recommend it.
I also finished up The Notebook by Nicholas Sparks (probably last month, but I'm still counting it). Also a great book. But when I finished it, I felt as if I had just lost a loved one. Seriously my heart ached for days. My eyes would well up with tears when I would think about it. I have not seen the movie yet. I will probably watch it some day I feel the need for a good cry.

Next up on my reading list is Healing Sands by Nancy Rue & Stephen Arterburn. I got the book (today actually) from Thomas Nelson Publishers as a book to read and review. I've never done that before but I thought it might be fun, so I'm trying it. Their link is on my sidebar in case you are interested in finding about more.

Also on my reading list are:
The Invisible Woman by Nicole Johnson
letters to darcy by Tracy Ramos - another tear jerker, I assume. The book is a collection of a mother's letters to her unborn child. A child that had a condition called Trisomy 18. I had never even heard of Trisomy 18 until I came across this blog where a family just recently lost their baby girl to the condition. Reading things like these reminds me to thank God every day for my 3 healthy children.
So that's it for me. I'll be lucky to get through these 3 books by the end of the year. We have Thanksgiving, Christmas, and 4 birthdays to get through over the next several weeks, so I reckon I'll be a bit busy. :)
Be sure to check out 5 minutes for books to see what others are reading!
Thanks for stopping by! Until next time ... God bless!
~Kimberly