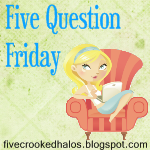 I haven't done a Five Question Friday for a while, so I thought I'd jump into this one. Besides, I don't want to become a Slogger, right Laura? :)
Stop by Mama M.'s if you'd like to play along!
1. What were your school colors?
Purple and gold. Seriously!
2.
What's the best compliment you ever received?
I actually just received a pretty awesome one the other day from my friend, Lisa. She said, "you look like you've lost a BUNCH of weight!" I haven't lost a BUNCH (16 pounds), or maybe that IS a bunch, but it made me feel good. Of course, I could have taken offense to that comment and been like, "Why? Did you think I needed to lose weight?!" Funny how we women can do that. :) But since I am, indeed, trying to lose weight, it was pretty nice.
3.
Do you buy cheap or expensive toilet paper?
I don't buy any. My husband does the shopping. :) But he buys middle-of-the-road TP. Why would anyone buy expensive toilet paper when you are literally just going to flush your money down the toilet? :)
4.
Have you ever had a surprise party thrown for you? Or have you had one for someone else?
No and no. But I've been to them and they are usually a lot of fun!
5. What is one
material
possession that you "can't live without"?
Probably my laptop - connected to the internet. I seem to be on it A LOT!