I know you've seen this photo before, but I decided to enter it in the new Still Life Standouts photo challenge hosted by Branson, Courtney N., and Courtney K. as my favorite still-life photo from July. Does a spider web count as still life? :) No matter.
To see more incredible still-life photos, check out ...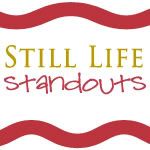 Edited on 9/5/11 - Just discovered today that Courtney N. picked this photo as her winner! I'm not sure how I missed it, but I was so excited to find this out today!
(I didn't see a "winner" button on her post, so I posted the Top Three button).