Time for another Scavenger Hunt! After missing last week due to my weekend away with my wonderful husband, I'm glad to be back this week. Our items to find this week were Low Key, The Color Wheel - Monochromatic/Analogous Color, Circle, Scarf, and Phone. I don't think I nailed a few of these, but here they are anyway. :)
So I thought it would be cool to take a picture of the kids while they were watching their portable DVD player. I told them they needed to be really still so the photo wasn't blurry. They decided that they should hold their breath also, which is why they have chipmunk cheeks. I'm not sure this is "low key" but I'm sticking with it. And I'm embracing the noise. :)
Again, not sure this is exactly right, but this yellowish/white mushroom in the green grass, I thought, fell into the analogous category. Maybe?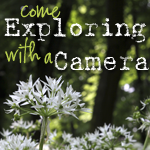 This is actually from my archives. It was taken at our local farm show back in August. It would have been even better if there had been a horse hooked up to it and someone driving the cart, but I take what I can get.
Taken this morning after church. Keira wearing her sparkly scarf.
Also taken after church this morning. I'm probably one of the few people left on the planet that still has a TracFone as opposed to one of the new smart phones (hence the occasional smart-phone envy on my part). But I can make and receive calls and even text on it, so it works for me right now. And it doesn't cost us an arm and a leg to have it, which is even better. I love the look on Nick's face ... like "don't bother me, I'm texting." (He wasn't really though ... just pretending so Mom could get a picture for this category). :)
If you'd like to join in for next week (and you really should if you haven't been!), the items to find are:
Head over to Ashley's to see other interpretations of this week's hunt items. I'm looking forward to seeing what some others have come up with!
Have a great Sunday!