The items for this week's hunt are: Landscape, Color Wheel - Complementary/Triadic Color, Black & White, Food, and Blank Space.
I know this was my Project 365 photo of the day on Friday, but I still wanted to use it for this category. I might have to have this printed on a canvas and hang it on my wall. I love it! :)
Purple, green, and reddish-orange - I think this qualifies?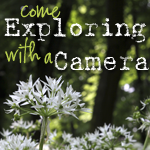 For this category, I already had a flower photo converted to black and white and was quite pleased with it. So imagine my excitement to see this at a fall festival on Saturday! Please tell me I'm not the only one to get giddy over finding scavenger hunt items when I'm not even looking. :)
This is from the archives ... but only from a few weeks ago. Peppers at a local green house.
Okay, so when taking pictures of sunsets with a lot of blank space in them, remember to clean your lens before you start shooting. I had to do a lot of clean up on this one and I still missed a spot or two. *sigh* It was a gorgeous sunset though.
Head over to Ashley's for more great scavenger hunt photos!
Next week's items are: