Time once again for another Scavenger Hunt Sunday! Thankfully I had all my items found before Sunday (unlike last week) because as much as I hate to admit it, I am sick. Ugh. So we'll be spending a (hopefully) quiet day at home today. Drinking lots of tea and water and eating leftover chicken and gnocchi soup.
Anyway, this week's hunt items are Macro/Close Up, Found Texture, Home, Cover, and The Tree. And here are my interpretations ...
Friday morning we woke up to our world covered in frost, so I ventured out with my camera and macro filters to see what I could find. While I enjoyed photographing the frost with my macro filters, I reeeeeeeeeaaaallllly want a macro lens now. Perhaps for Christmas? ;)
Nicholas found this wooly worm, which is full of texture, and made sure to bring it to me so I could take a picture. I have my children trained well. :)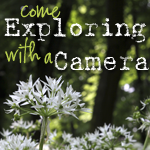 Shortly after Alex got home from school on Thursday, he yanked out his front tooth that was literally hanging by a thread. If you'd like to see more photos of his snaggletooth, go to this post ... Snaggletooth Alex. :)
I think the frost we woke up to on Friday was just preparing us for the snow we would wake up to on Saturday. While I wasn't ready to see the world covered in snow, Honey absolutely loved it! (And it is all gone now, in case you were wondering).
The tree in our backyard looked pretty cool with its autumn colors falling off along with the snow. Guess I better fill that bird feeder!
Oh, and one more thing while you are here ... my photo (below) is in the running for Favorite Photo of October over on Misty's blog. I'd love it if you'd go over and vote for me! Thanks!
That's it for me. If you'd like to see more Scavenger Hunt finds, head over to Ashley's. And if you'd like to play along next week, here are the things to look for:
Food
Purple (Shades of Autumn prompt)
In Disquise (Paper Heart Camera prompt)
Shapes (Ginger's prompt)
Photographer's Choice