Hello! And welcome! This week's Wild & Wonderful Wednesday will be relatively short and sweet. 'Cuz it is late and I am tired. And I have a cold. Ick.
However, despite all that I had a pretty good day. Alex and I got some last-minute Christmas shopping done this morning. I was finally able to pick up my Christmas cards at Sam's Club. (don't ask!) And I got the envelopes all filled out ... just need stamps, return address labels, and sealed. (When I have a bunch of envelopes to seal I always remember that Seinfeld episode when George's fiance died from licking all their wedding invitation envelopes. Remember that one? Makes me laugh every time.)
Anyway, when I got home from running a few more errands this afternoon (without my little helper), my wonderful mail carrier had left a package for me on my front porch. My new lens! It is just a 50mm 1.8, but I was still so excited. I ripped open the box, put the lens on my camera and ... had to wait about an hour before I could play because it was all fogged up from being out in the cold. :) But I did get to play.
Keira was her usual willing model. I love the fact that I took this indoors without a flash at ISO 800.
This is Keira's ornament this year. I'm so glad she enjoys the violin so much. Thursday is her school concert that we are really looking forward to. Except for the fact that it is at 8 o'clock in the morning. What's up with that? Oh, and she taught herself how to play another song today just by listening to it and figuring it out. I wish I could remember which song. All I can remember is that it is a Christmas song because that's the Pandora station I had playing. :)
And here's Nick's sweet little snowman he made last year in school out of a sock and rice. I just love this little guy. I wish we would get some snow so we can make a real snowman.
You'll notice I took all of these with the Christmas tree in the background. I can't get this kind of bokeh with my other lenses. Although this new lens is going to take some getting used to. My other three lenses are all zoom lenses and since this one isn't, I need to get my distance right. I'm sure I'll do a lot of playing over the kids' Christmas break.
Okay, so much for short and sweet, huh? :)
Now it is your turn! Link up your Wild & Wonderful photos below.
Just a few things first ...
1. Grab my button for your post and link up below (or at least use a text link) so others can find out about Wild & Wonderful Wednesday. (I reserve the right to delete links that don't follow this one simple rule. K? Thanks.).
2. Link up your post URL (or Flickr photo URL), not your blog URL.
3. Photos must be yours please.
4. Try to visit and comment on a few other linker uppers (mine too please!). We know how much everyone loves comments!
5.
You have until Saturday at midnight to link up!
Thank you for stopping by and linking up! I would like to wish each of you a very

Merry

Christmas

!
Also linking up with these beautiful ladies: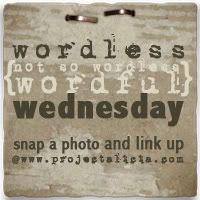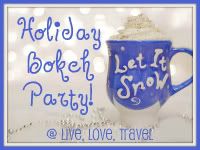 Be sure to stop over at Jaymi's to see some beautiful bokeh photos! You won't be disappointed!