Hello! After missing last week's Scavenger Hunt, I'm back this week. The items we had to find this week are: The small things, Illustration, Valentine, Work of art, and Window beauty.
Alex had a dental program last week at school. He came home with a goody bag full of hygiene goodness. That night after his shower he must have spent 10 minutes brushing his teeth with his new toothbrush ... with a mirror in his hand. It was the cutest thing. I guess that dentist made an impression on him!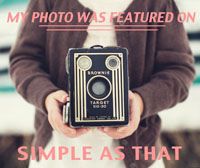 Keira was supposed to bring home a pencil drawing from art class this week, but due to having a substitute, she didn't get it back yet. Instead she showed me this one that she drew one day while she was bored.
Store bought or home made ... that was the big decision this year. As you can see, we opted for home made. These are Alex's valentines for his classmates. They didn't cost me anything but some time to make as I already had all the supplies on hand. We hope to finish them up tomorrow or Tuesday. Alex loves them.
Having fun with a little pop art. The photo is a cat mask that Keira made in art class a few years ago. She has it hanging on her wall.
I photographed this little beauty through my office window. Hey, it works for me!
Thanks for stopping by! Be sure to head over to Ashley's for more great Scavenger Hunt photos. And if you want to play along for next week, these are the items to search for ...
Candy

Pink or Red

Love

Kisses

Smile