Science has never really been my thing. However, my kids love science. Mixing baking soda and vinegar together to see what happens. Exploring for cool-looking "fossils". Identifying different insects. Wait, maybe I do like science! :)
So since I have some science-loving kids, I thought I'd check out the Janet's Planet DVD.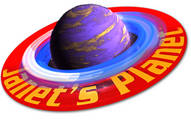 What fun! Janet Ivey makes learning about microgravity so interesting! I found myself wanting to watch and learn! And while I haven't watched the DVD with my kids yet, I just know they are going to love it. She explains things so well that you don't need a Ph.D. to be able to understand.
"For the past decade, science education has been my passion and America's children have been my inspiration. It is incredible to see how excited children can become about the world around them when the information is presented in an accessible and fun way. That is the mission of Janet's Planet, and I look forward to continuing to support better science education in the years to come."
This particular DVD was about 40 minutes long and had lots of pictures and fun graphics thrown in. And at the end we get to see how fun it would be to experience micro gravity as Janet Ivey embarks on a fun adventure.
I think this DVD would make a great addition to any teacher or homeschooler's curriculum.
For more information, here are a few sites to check out ...
And if you'd like the chance to win your own copy of this Janet's Planet DVD on Exploring Microgravity, just leave a comment telling me your favorite subject in school. Were you a "math geek" as my boys call my daughter? Or were you an English nut that is right now cringing at the mistakes in my writing? Or, like my soon-to-be-10-year-old son, are lunch and recess more your thing? Just shout it out in the comments! Well, don't shout 'cuz that's kinda rude. :)
I will randomly pick a winner on Friday, April 5, and announce the name right here on my blog.
Oh, and don't forget that I'll be picking the winner of the book, What I Wish I Knew at 18, on Wednesday. So if you want a chance to win it, click on the link. Thanks!