The giveaway is now over. The winner is Alisha! Congratulations!
*************************
Hi there!
I've been telling myself for months now that I really should write something on my blog, but then I never got around to it. I could give you a gazillion reasons why I haven't posted, but I won't bother. Let's just say it wasn't exactly a priority in my life and leave it at that.
So now here we are at that awkward stage. Long-time silence. :)
For those of you who stuck around, thank you. I hope to post more regularly from here on out.
Anyway, my reason for posting today is pretty exciting! I just finished reading the book The League and the Lantern and I wanted to tell you about it.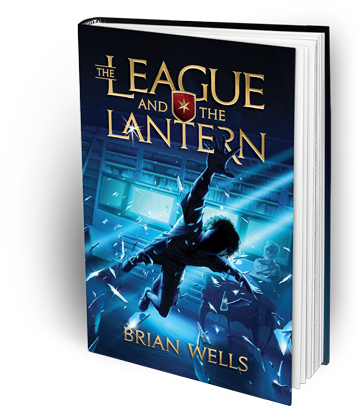 After a disastrous sixth grade, Jake Herndon is anxiously awaiting his Big Do-Over, starting with his new school's notorious seventh grade sleepover. Awkward team-building games and forced fun quickly become the least of his problems, however, when a dangerous organization invades and the night takes a shocking turn. Jake and two new classmates, Lucy and TJ, barely escape, only to find themselves in a fight for survival on the streets of Chicago. Over the next 48 hours they unravel a mystery dating back to the Civil War and an incredible secret about Jake's family.
Full of unforgettable characters and unexpected twists, The League and the Lantern is a jaw-dropping ride of mind-bending revelations and laugh-out-loud humor. If Jake and his new friends can make it through this weekend, they just might have a shot at seventh grade.
In this debut novel, family television executive producer and dad Brian Wells has created an epic, rip-roaring comedy adventure that's also about courage, family and friendship. The result is an engaging mix of great characters, crackling wit and unexpected twists that 9- to 14-year-olds, entertainment executives and family groups are applauding.
Wells works from the belief that great entertainment is driven by memorable characters and imaginative writing, and it shows. The League and The Lantern delivers all of this and more without objectionable language or inappropriate themes. Throw in a plot that traces back to real historical figures and you've got what some are calling Percy Jackson meets National Treasure.
As an extra bonus, the book also invisibly weaves in 140 of the top vocabulary words for middle school success. A free downloadable study guide is available on the book's website.
I started reading this book to my 10-year-old son and we got through the first couple chapters. He's happy with me reading a chapter or two a night, but I was hooked and kept on reading without him. (Don't worry though. I will continue reading it to him until we finish.) :) I finished the book in two days! I couldn't put it down!
Yes, it is geared towards middle-schoolers, but it is a great story that even adults will enjoy. The best part is that there is no foul language and no inappropriate scenes. Just good, clean action and adventure. With some surprises along the way, of course.
Actually, that's not the best part. The best part is that for every book you buy from the website, they will give a copy away to a child in need!
If you have a son or daughter, grandchild, niece or nephew, whomever; get this book for them! It is the first book in a new adventure series for middle schoolers. I can't wait until the next book comes out!
Here are a few ways you can learn more about the book and the author:
Now for the giveaway part. Since I agreed to read and review the book, I have been given permission to also give a copy away to one lucky reader! All you need to do is answer a simple question - who is your favorite children's author? Easy peasy! Thanks for entering!
Winner will be announced here once the giveaway is over, so be sure to check back.
"Disclosure (in accordance with the FTC's 16 CFR, Part 255: "Guides Concerning the Use of Endorsements and Testimonials in Advertising"): Many thanks to Propeller Consulting, LLC for providing this prize for the giveaway. Choice of winners and opinions are 100% my own and NOT influenced by monetary compensation. I did receive a sample of the product in exchange for this review and post.
Only one entrant per mailing address, per giveaway.
If you have won a prize from our sponsor Propeller / FlyBy Promotions in the last 30 days, you are not eligible to win. Or if you have won the same prize on another blog, you are not eligible to win it again. Winner is subject to eligibility verification."